THE NEXT BANDS ON STAGE
Signed up 16 October 2016 at 3:47 a.m.

Alternative rock
New Zealand
Signed up 26 October 2015 at 5:39 a.m.

Acoustic
New Zealand
Signed up 19 May 2015 at 9:08 p.m.

Alternative Folk
New Zealand
Next bands around the globe

Death core
Russia

Death core
Russia
Garage 56 Music Club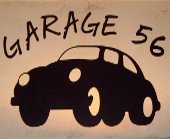 Garage 56 Music Club
Via Adriatica 218  basaldella Di Campoformido ( Ud, Udine
Show on map
Il Garage 56 è un luogo ideale per la promozione delle band emergenti. Suonare dal vivo per un gruppo rock è fondamentale. Per questo ritrovarsi sul palco del Garage in un rock contest importante come Emergenza è un'esperienza utile per qualsiasi musicista. Stagione dopo stagione il Garage si è dimostrato il punto di riferimento per ogni gruppo emergente che voglia partecipare ad un concorso rock serio e ben organizzato. La collaborazione tra Emergenza rock e il Garage è stata quindi fonte di grande successo e di grandi opportunità per le band rock italiane che cercavano occasioni per suonare dal vivo su un palco professionale.