THE NEXT BANDS ON STAGE
Signed up 16 October 2016 at 3:47 a.m.

Alternative rock
New Zealand
Signed up 26 October 2015 at 5:39 a.m.

Acoustic
New Zealand
Signed up 19 May 2015 at 9:08 p.m.

Alternative Folk
New Zealand
Next bands around the globe

Hard Rock
Poland
Signed up less than one hour ago
Pop Rock
France
LA CUPOLA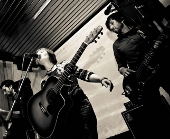 LA CUPOLA
Via Europa 15 (strada Per Clusone) Nembro, Bergamo
Show on map
La Cupola Di Bergamo è un locale aperto nel '96, con un design aggressivo tra metallo e cemento. Posto dove musica live, gruppi emergenti, artisti rock italiani ed internazionali si esibiscono in festival, concorsi, concerti.