THE NEXT BANDS ON STAGE
Signed up 16 October 2016 at 3:47 a.m.

Alternative rock
New Zealand
Signed up 26 October 2015 at 5:39 a.m.

Acoustic
New Zealand
Signed up 19 May 2015 at 9:08 p.m.

Alternative Folk
New Zealand
Next bands around the globe

Death Metal
Switzerland

Other...
France
Abaldoria live Club
Phone: 3492978116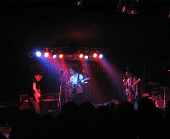 Abaldoria live Club
Via Castiglione, 38, Foggia
Show on map
Club la cui prerogativa è il buon bere, la buona cucina e soprattutto la buona musica, con artisti musicali soprattutto locali, ma anche di fama nazionale. La musica rimane comunque l'attività centrale di questo pub, presente ormai da qualche anno nel foggiano, creandosi un circuito di band emergenti rock di tutto rispetto.