THE NEXT BANDS ON STAGE
Signed up 16 October 2016 at 3:47 a.m.

Alternative rock
New Zealand
Signed up 26 October 2015 at 5:39 a.m.

Acoustic
New Zealand
Signed up 19 May 2015 at 9:08 p.m.

Alternative Folk
New Zealand
Next bands around the globe

Latino Americas
Japan
Signed up less than one hour ago

Reggae Muffin
Belgium
Links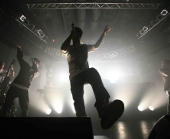 Links
Via Di Piedigrotta 30/b, Napoli
Show on map
Il concorso per band emergenti più importante del mondo ha visto anche il palco di questo locale di Napoli. Ormai non esiste più ma per anni ci hanno suonato molti gruppi musicali italiani emergenti.